Successfully energizing transformer T2 – 25MVA EMC 110kV station Ayun Pa
Ayun Pa 110kV substation (TBA) was invested, built and put into operation by Central High Voltage Grid Company in 2002 to supply power to loads of some southern districts and towns of Gia Lai province such as: Ayun Pa commune, Ia Pa district, Phu Thien district and transferred to Gia Lai PC for management and operation from the end of 2018.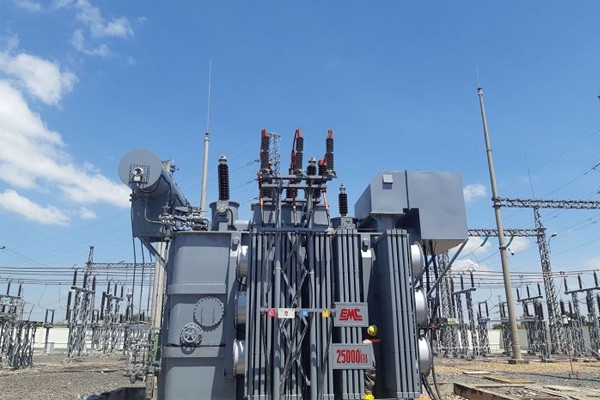 With the rapid development of regional loads, especially the solar power source, the capacity of 02 transformers -16MVA-110kV Ayun Pa substation is limited in transmitting the maximum power of the source at high transmission time. point.
Approved by the Ministry of Industry and Trade in Document No. 8755/BCT-DL dated November 16, 2020 on adjusting the planning of 110kV Ayun Pa substation in the Electricity development planning of Gia Lai province in the period 2016-2025 , considering the year 2035, and at the same time with the agreement of the Central Power Corporation, Gia Lai PC implemented a plan to transport 110kV-25MVA transformers from 110kV Ea Kar station (Dak Lak province) to install located at 110kV Ayun Pa station, replacing T2-16MVA transformer.
Although the Covid-19 epidemic that occurred in Gia Lai province has greatly affected the implementation plan and progress, however, after the social distancing was lifted, PC Gia Lai immediately directed the Relevant departments coordinate with the construction unit to urgently deploy the alternative of the MBA. At noon on March 7, 2021, transformer T2-25MVA at 110kV Ayun Pa station was officially put into operation.
Gia Lai PC cooperates with Gia Lai Provincial Police Department of Fire Prevention and Control in energizing transformer T2 110kV station Ayun Pa
In addition, Gia Lai PC has also planned and promoted the replacement of T1 transformer from 16MVA with a 25MVA transformer, which was transferred from Tam Ky 110kV substation (Quang Nam province). It is expected that the transformer T1 -25MVA will be energised for operation at the end of March 2021. Speeding up the capacity increase of 110kV Ayun Pa substation aims to improve the capacity of power supply for the southern region of Gia Lai province, and at the same time contribute to promoting socio-economic development of people in the area.
Phu Diep
Source: cpc.vn