EMC – 45 years of innovation, raising the brand name of Vietnam's transformers
EMC enthusiasm: Constantly "renew" the "old"
45 years of construction and development, going through many name changes, but the core values of Thu Duc Electro Mechanical Joint Stock Company (EMC) are always passed on each generation towards innovation in all production, sales, management and operations to fit the new context.
 History making tradition associated with a determination to improve
 Formerly known as Diesel Power Plant (1976), Electromechanical Repair Factory (1984), Thu Duc Electromechanical Factory (1996), Thu Duc Electromechanical Company (1999) and officially equitized
In 2008 to become Thu Duc Electro-Mechanical Joint Stock Company, EMC has accompanied the development of the electricity industry of the country in general and the electricity industry in the South over the past 40 years in particular.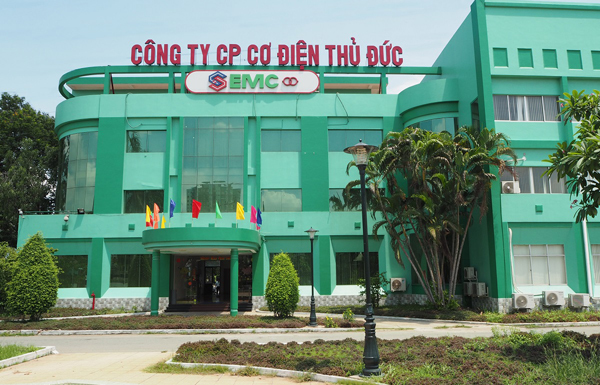 Few people know that in 1998, EMC was the birthplace of the first transformer, thanks to boldly improving the equipment, researching the design. In September 1998, the factory produced and put into operation the 20 MVA-66KV transformer for Chanh Hung station in Ho Chi Minh City. In December 1998, we continued to successfully manufacture the large-sized 110 KV power transformer with 25 MVA capacity.
Since then, we are determined to improve, always "renew" the "old" has become the fire of enthusiasm passed through many EMC generations. Promoting construction and planning work, investment plans for domestic product and goods development are always the first goal that EMC aims at.
At the same time, attaching importance to and prioritizing all resources of the Company with the attention of the State and ministries at all levels to invest in new construction, renovation of factories, and purchase of new modern technology equipment to serve the design, manufacture and test of products, diversify manufactured products and create new products, especially super loss low distribution transformers and transformers with capacity up to 63MVA – voltage 110KV.
At the same time, strengthen cooperation with foreign partners, step by step invest in the most advanced production technology to manufacture high quality products that cannot be domestically produced at the present time as well as ready to import modern technology and production equipment for effective production and business activities of the Company.
In particular, EMC also focuses on building an effective business strategy, improving the scale, productivity and product quality in accordance with the domestic and world context that has many constant changes.
According to Mr. Bui Phuoc Quang – General Director of EMC, in 2018-2019, the Company issued shares to increase charter capital for the purpose of raising capital to supplement working capital and invest more in equipment systems, upgrade MBA production lines and high-pressure laboratories. Specifically, EMC has equipped a system of 15 automatic winding machines, vacuum dryers, automatic tole cutting machines and amorphous circuit breakers – annealing systems, investment in new powder coating systems … with a total investment cost of more than 25 billion.
"Thanks to these enhanced equipment, over the past two years, EMC's productivity has increased markedly, the quality of finished products is stable, and has created EMC brand reputation among domestic and outside the electricity industry ", Mr. Bui Phuoc Quang shared.
From a 48-person repair factory in 1976, Thu Duc EMC has now become a strong enterprise in the field of electrical engineering with a lean workforce of nearly 120 people, the average salary for each employee is over 10 million dong. Labor policy is also thoroughly implemented to ensure the health, safety and well-being of employees by optimizing the working environment and conditions, and at the same time promoting training and fostering professional skills.
Towards effective restructuring
By the end of March 2018, in accordance with the policy of the Government and the Electricity Industry, Vietnam Electricity has divested all the state capital in Thu Duc Electro-Mechanical Joint Stock Company (equivalent to 40.05% of the charter capital). marks a new chapter in EMC's nearly half-century-old calendar.
Despite many difficulties in bidding activities, target customers and input materials in 2019, EMC's leaders and staff are determined to overcome and implement many economic technology solutions, reducing cost to offset the increased costs.
As a result, the company's net revenue from selling goods and providing services reached 423,086 million VND, an increase of 43.6% compared to 2018, showing the continuous efforts of the whole organization.
In the year 2020 and the following years, EMC will continue to implement the program of restructuring the organizational and management apparatus, investing in equipment in the direction of modern and advanced technology for the Company to do business effectively, in which still building its core business of manufacturing electrical equipment with the main product is transformers and transformer distribution of all kinds.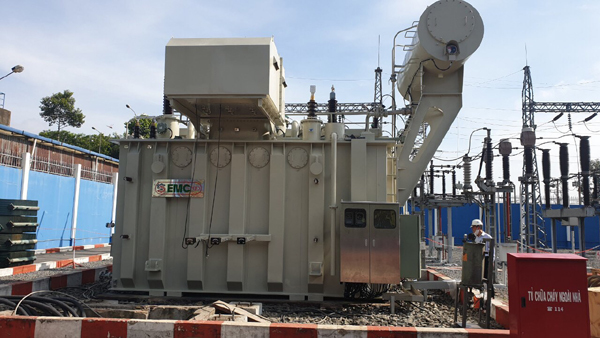 In terms of production, we would continue to invest, upgrade systems and production lines of distribution & transmission transformers, mechanical production lines, machinery and equipment in the system comply with the setted plan in order to ensure quality and cost savings.
At the same time, the monthly production output is flexibly adjusted according to the market's demand on the basis of reference to the 2019 production plan and continues to increase the production of quality distribution transformer products, high technical and economic value, which is being consumed well by the electricity industry.
On the other hand, EMC is also researching comprehensive product quality management solutions for production lines from the first stage to the last stage, in which the goal is to focus on strictly controlling the design, purchasing materials, especially for main materials such as steel, silicon tole, insulating oil, insulating porcelain.
In particular, strictly follow the quality management system process based on ISO 9001: 2015 standard in the production stages and control semi-finished products at all stages to eliminate defective products, strictly inspect finished products on samples and standard engineering tools.
 Along with that, on the basis of researching and surveying customer and market responses, EMC said that it would consider and make a decision to promote production of a new product of distribution transformers using amorphous, low no-load consumption, economically, friendly with the environment; investing in the 110KV-220KV transmission transformer production line.
  45 years of construction and development, going through many name changes, , 45 years of witnessing many ups and downs of the whole country and the electricity industry, but the core values of Thu Duc Electro Mechanical Joint Stock Company (EMC) are always passed on each generation towards innovation in all production, sales, management and operations to fit the new context.