Learn about dry transformers – Advantages and disadvantages
Introduction to dry transformer
What is a dry transformer?
Dry-type transformer  (English is dry-type transformer) is a series of machines that change voltage and current, monolithic molded structure, naturally cooled by air.
The working principle of a dry transformer is based on the phenomenon of electromagnetic induction to convert the alternating current system at one voltage to another.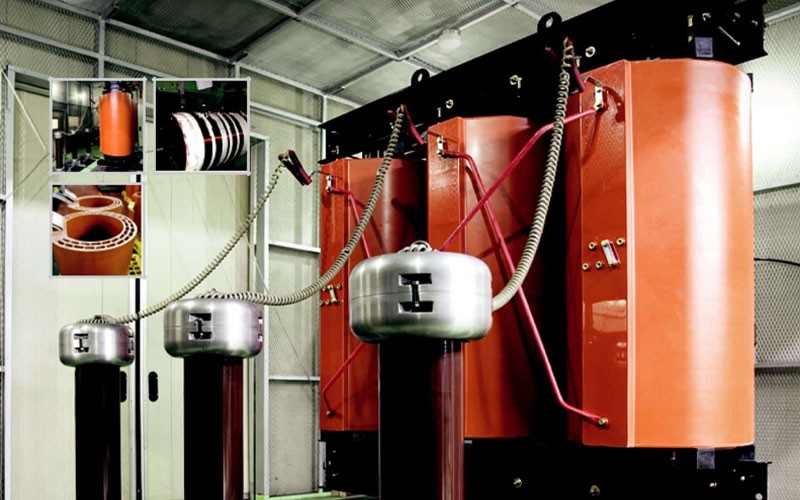 Common types of dry transformers
Dry transformers have magnetic circuit construction and the windings are not immersed in insulating liquid. Currently, there are 4 most common types of dry transformers:
Cast Coil resin transformer (CRT):

 The transformer windings are covered with epoxy resin and vacuumed. The machine structure meets the requirements for use in high humidity environments.

Vacuum pressure impregnation transformer (VPI):

 The coil is tied in a vacuum protective box and uses polyester resin for winding insulation.

Vacuum Pressure Encapsulated (VPE) Transformer:

 High-grade dry transformer with coils placed in a vacuum box and using VPE silicon as winding insulation.

Open Loud Transformer:

 The dry transformer is manufactured by heating the coil and dipping it into a high temperature varnish.
Top brands of dry transformers on the market
– Group of dry transformers from foreign brands:  Schneider dry transformers, ABB dry transformers, KP dry transformers, and THIBIDI dry transformers in cooperation with General Electric Company (GE) of the US.
– Group of dry transformers from Vietnamese brands:  Thu Duc Electromechanical Joint Stock Company – EMC is currently a pioneer in investing in dry transformer production lines with the ability to meet 3,000 machines/year.
With the advantage of production capacity, the EMC dry transformer product line has TSKT in line with current electricity standards, while also meeting the schedule earlier, at a more competitive price and with after-sales service. forever better.
Comparison of dry and oil transformers
1. Distinguish between dry and oil transformers.
The biggest feature that distinguishes dry transformers from oil transformers is the cooling method:
Mineral oil cooled oil transformer (insulating oil).

Natural air-cooled dry transformer.
2. Compare dry and oil transformer prices
Investment cost is the leading factor deciding whether to choose a dry transformer or an oil transformer for a project or project. In practice, the production cost of dry transformers is usually higher than that of oil transformers. However, in terms of maintenance costs, dry transformers are more economical because they do not have to monitor oil levels, change oil, and handle oil leakage.
3. Comparison table of dry transformers and oil transformers
| | | |
| --- | --- | --- |
| Type of MBA | Dry Transformer | Oil transformer |
| Wattage | Bigger than oil transformer | Limit |
| Longevity | Average 25 – 30 years | 20 years on average |
| Installation environment | Can be installed in places with high temperature and humidity | Environment 5 – 40 degrees Celsius; altitude <1000m |
| Security | Fire protection | Risk of fire and explosion due to transformer oil failure |
| Heat dissipation ability | Inferior than oil transformer | Good |
| Maintenance, maintenance | Periodic and simple implementation | Regularly monitor transformer oil condition |
| Ability to repair | Are not | Repairable |
| Ability to utilize | Can't be recycled | Multiple parts can be recycled individually |
Product information of dry transformer EMC
3 phase dry transformer EMC casting type manufactured by Thu Duc Electromechanical Joint Stock Company on advanced technology transfer line from abroad.
Delivery of 5000kVA and 2000kVA EMC dry transformers – Waste power project in Binh Duong
Advantages of dry transformer EMC
Dry transformers were born to limit many of the existing disadvantages of oil transformers. In particular, the higher allowable temperature of dry transformers provides fire and explosion prevention, improving safety for people and equipment when operating.
High safety:

 EMC fireproof dry transformer meets the requirements of use for key projects, requiring fire safety.

High mechanical and electrical strength:

 Epoxy resin molded coil design in vacuum can withstand short circuit force and abnormal vibrations.

Perfect capacity:

 EMC's cast-type 3-phase dry-type transformer has good overload capacity, high efficiency and low operating noise.

More convenient:

 The dry type transformer has many advantages in transportation, simple installation, and less space.

Environmental protection:

 Dry transformers do not generate emissions, waste oil, reduce the risk of fire and explosion and are more environmentally friendly.

Good price dry transformer:

 Besides the investment in improving product quality, EMC also has a competitive price policy, bringing more cost-effective transformer products to customers.
To update the price list of EMC dry transformers with attractive discounts for works and projects – you can contact HOTLINE:  0969 433 639
Construction of dry transformer EMC
1. DRY TRANSFORMER COILING TYPE EMC
The copper-based dry transformer uses copper foil to process the low and high windings. Similarly, all low and high windings of an EMC aluminum-wired dry-winding transformer are manufactured from aluminum foil. Coil molded with epoxy resin in a vacuum environment, has a very high bearing capacity when short-circuiting. The coil jacking structure is firm, limiting the influence of external forces.
2. ERROR FROM DRY TRANSFORMER EMC
EMC imports quality corrugated iron cores from advanced countries, ensuring standard input materials. At the same time, the head from the modern production line is suitable for processing electrical engineering steel sheets to form high-quality cold-rolled silicon corrugated iron core, creating a closed loop circuit, reducing loss and reducing noise when the transformer is in operation.
3. EMC DRY TYPE 3-Phase TRANSFER ACCESSORIES.
Dry transformer cooling fan:

 Creates air circulation to reduce winding temperature, ensuring safe, efficient and durable transformer operation.

Temperature controller:

 Has the function of displaying winding operating temperature, overheating warning, fan speed adjustment, meeting the requirements of safe and durable operation of dry transformer.

Other accessories:

 EMC can meet the installation of rollers, dry transformer cabinet and other accessories according to customer requirements.
Parameters of dry transformer EMC
Apply according to Decision No. 115/QD-HDTV dated September 21, 2021 of the Electricity of Vietnam
1. TECHNICAL SPECIFICATIONS OF ALUMINUM WIRE DRY TRANSFORMER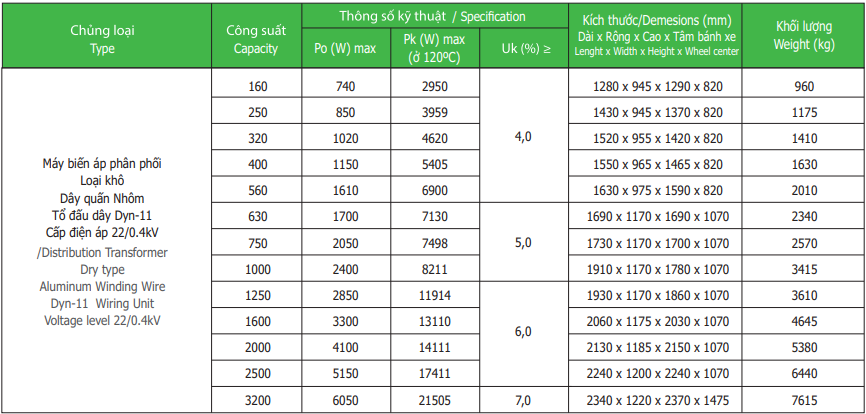 2. TECHNICAL SPECIFICATION OF DRY SUPPLY TRANSFORMER COOPER WIRE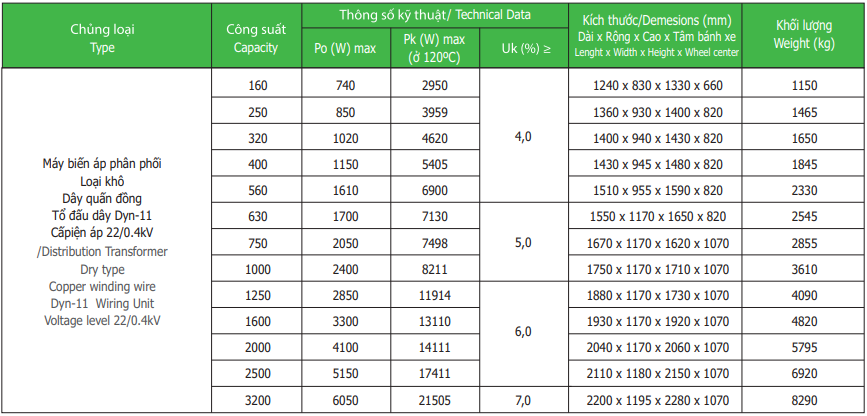 Note: Dimensions and weight are for reference, EMC reserves the right to improve and update parameters according to actual production. In addition, EMC meets all of the customer's production requirements.