EMCS3 – 3 Phase Oil-Immersed Transformers
3 phase oil-immersed transformers is designed and tested according to TCVN 6306 standard (equivalent to IEC-60076) or according to customer requirements.
High mechanical and electrical strength, short circuit resistance, overvoltage due to lightning.
Powder coated machine shell, durable to tropical weather.
Standard design windings withstand fault short circuit forces.
Oil natural circulation cooling system (ONAN).
Designed to suit the needs of closed or open type transformers, indoor or outdoor.
Product Description
3 phase oil-immersed transformers manufactured by Thu Duc Electro Mechanical Joint Stock Company meets ISO 9001:2015 product quality management standards.
Structure
Case: With the requirement of good protection for the internal components, ensuring the equipment to operate stably in tropical weather conditions, the EMC oil transformer housing is designed to be durable and powder coated.
Steel core, magnetic core: Silicon tole core 3-phase oil transformer uses electrical engineering steel foil, oriented silicon coated steel. The core is precisely machined and shaped, effectively reducing no-load loss and noise.
Low-voltage coil: Designed to withstand short-circuit force in the event of a fault. EMC applies modern winding technology and uses materials with good electrical conductivity.
High Voltage Coil: Wrapped in layers that evenly distribute the voltage when there is an overvoltage. The insulating paper part has a special adhesive layer, ensuring a strong structure for the coil.
For transformers used in saline areas, the creepage distance of the bushings is increased to 31mm/kV, and the casing will be hot-dip galvanized, increasing the service life of the machine.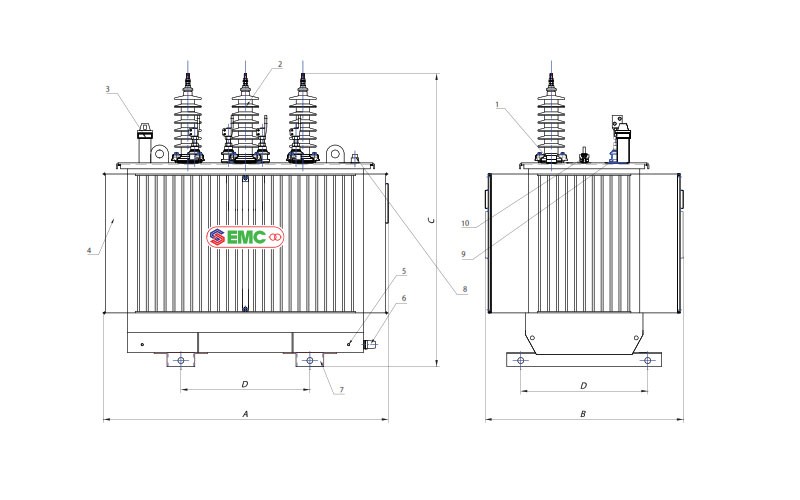 Pressure relief valve.
High-voltage porcelain.
Oil level indicator.
Radiator blades.
Grounding.
Oil drain valve.
Wheel Frame.
Thermometer plug.
Low-voltage porcelan.
No-load adjustor.
General technical characteristics of 3 phase oil-immersed transformers
– Manufacturer: EMC .
– Product quality management standard: ISO 9001: 2015.
– Manufacturing and testing standards: IEC 60076; TCVN 6366.
– Place of installation: Indoor or outdoor.
– Transformer type: Open type transformer with auxiliary oil tank or Closed type transformer.
– Rated capacity: From 100kVA.
– Number of phases: 3 phases.
– Rated frequency: 50Hz.
– Maximum ambient temperature: 45 °C.
– The temperature rise of the oil on the face: ≤60°C.
– Coil temperature rise: ≤65°C.
– Cooling type: ONAN.
– Working mode: Continuous.
– Cooling oil: New unused mineral oil, with anti-oxidant additives, in accordance with IEC 60296:2012.
– Insulation grade: A.
– Conductor material (high voltage coil and low voltage coil): Copper.
– Paint color: Gray – P9149B.
– Paint type: Powder coating.
– Accessories:
Oil level indicator;
Pressure relief valve;
Oil drain valve.
Specification Of Transformer
Decision No. 20/QD-HDTV dated March 11, 2022 by Southern Power Corporation.
Decision No. 62/QD-EVN dated May 05, 2017 by Vietnam Electricity.
Decision No. 7691/QD-EVN CPC dated September 8, 2020 by Central Power Corporation.
Decision No. 3370/EVNHCMMC-KT dated September 4, 2018 by Ho Chi Minh City Power Corporation.
3 Phase Oil-Immersed Distribution Tranformer Voltage 22/0.4kV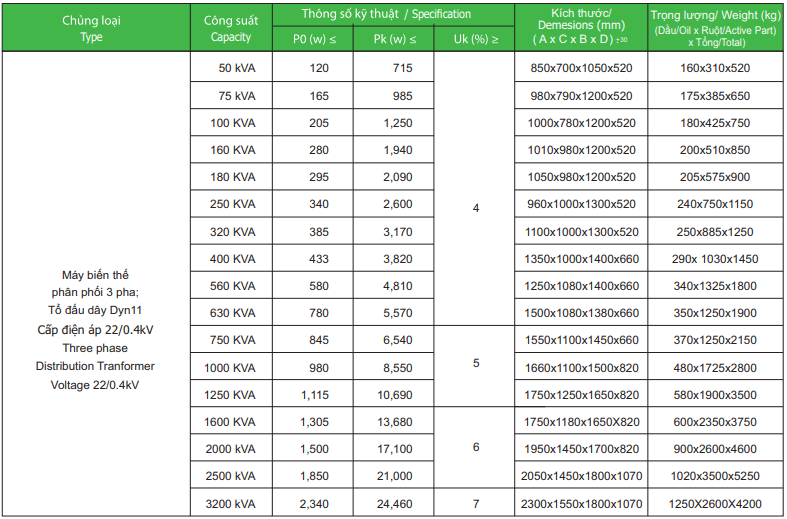 3 Phase Oil-Immersed Distribution Tranformer Voltage 35/0.4kV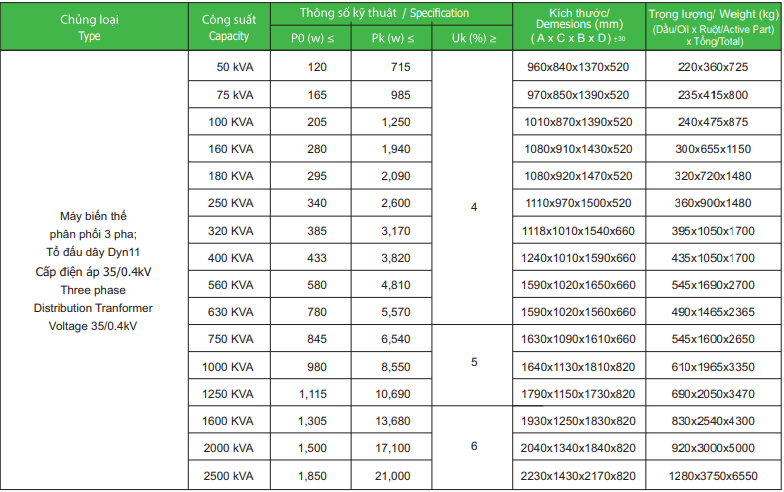 Note: Dimensions and weight are approximate; EMC reserves the right to improve and update parameters based on actual production. Furthermore, EMC meets all of the customer's production requirements.