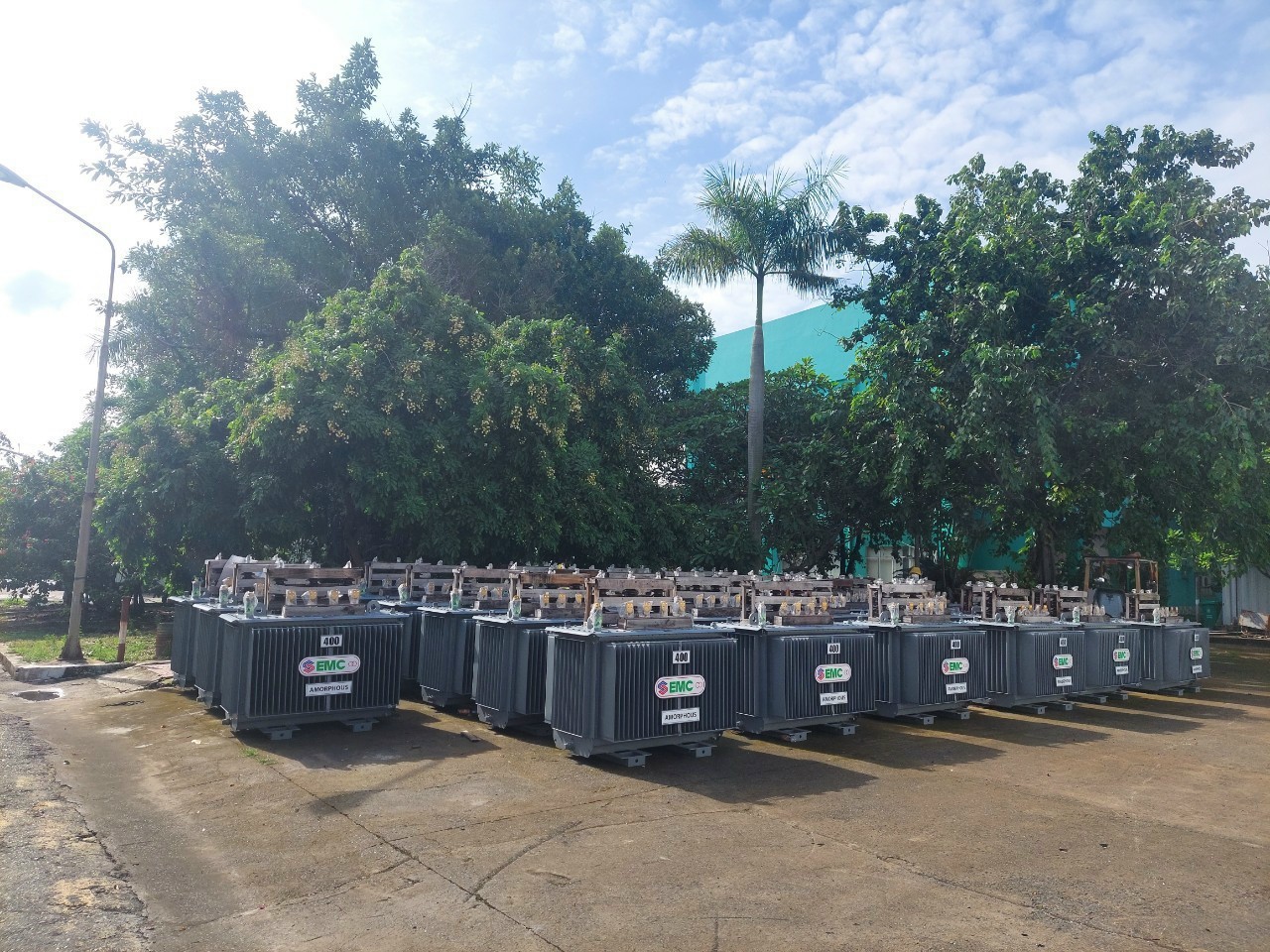 EMCA3 – 3 Phase Oil-Immersed Amorphous Transformer 400kVA
3 phase oil transformer with core Amorphous 400kVA EMC brand manufactured by Thu Duc Electro Mechanical Joint Stock Company. Product line of low loss, high efficiency transformers, trusted by many customers.
Save 60-75% energy.
Reduce emissions to the environment.
Reduce core temperature rise.
Get more performance, longer life.
Product Description
Product Description
Amorphous transformer 400kVA brand EMC by Thu Duc Electro Mechanical Joint Stock Company is designed and tested according to TCVN 6306 standard (equivalent to IEC-60076).
Transformer manufacturing technology using Amorphous amorphous steel core brings outstanding features such as:
Low loss: The no-load loss parameter of Amorphous transformer is 1/4 to 1/3 of that of a transformer using traditional electrical engineering steel (silicon tole).
Reduced heat generation: The amount of heat generated during operation is lower, helping the transformer to operate more stably and efficiently.
Reduce emissions: Because the machine uses electricity efficiently, it also limits the amount of CO2 emitted into the environment.
Long life: Amorphous distribution transformers save operating costs for investors with a lifespan of up to 25-30 years.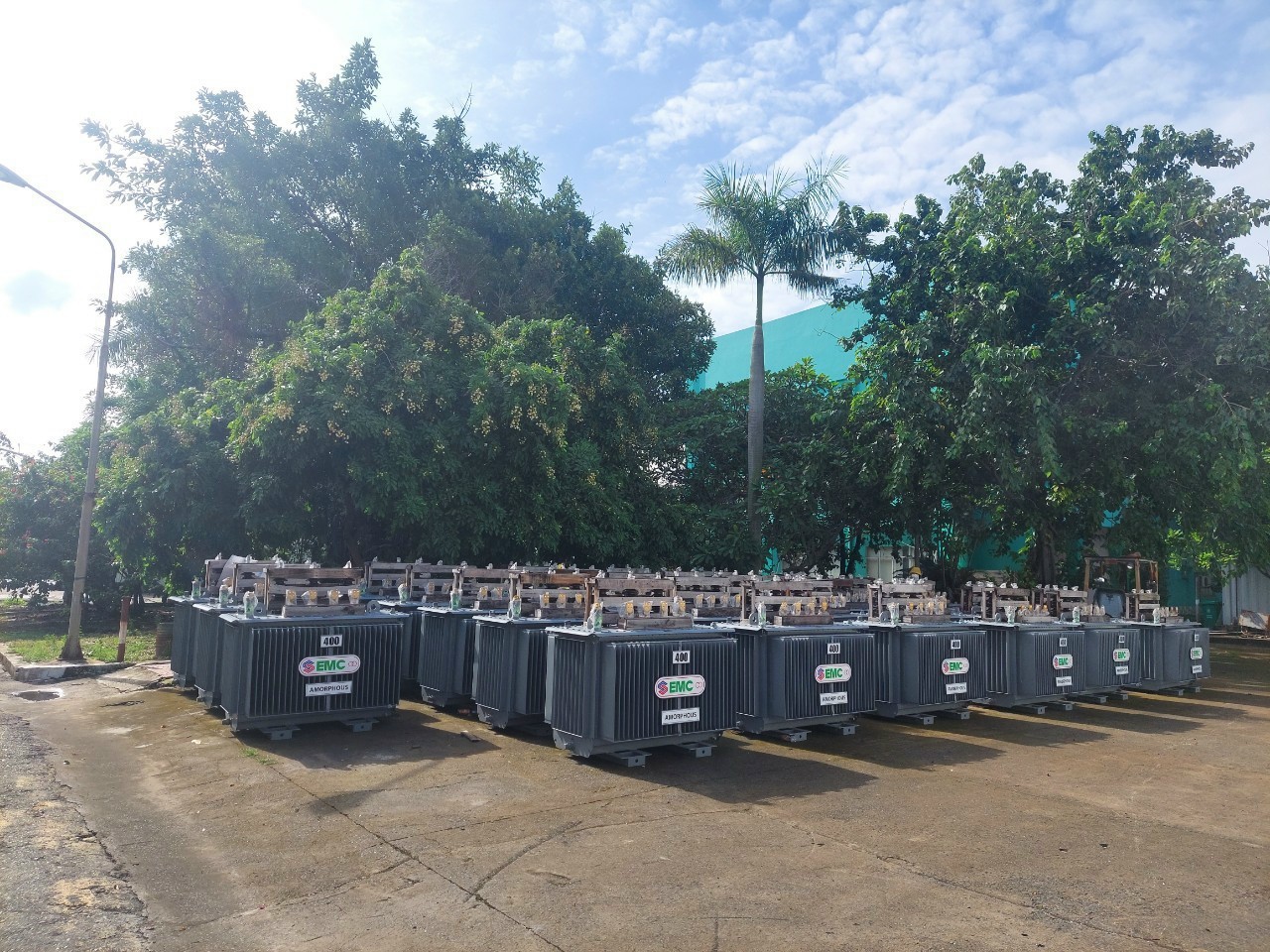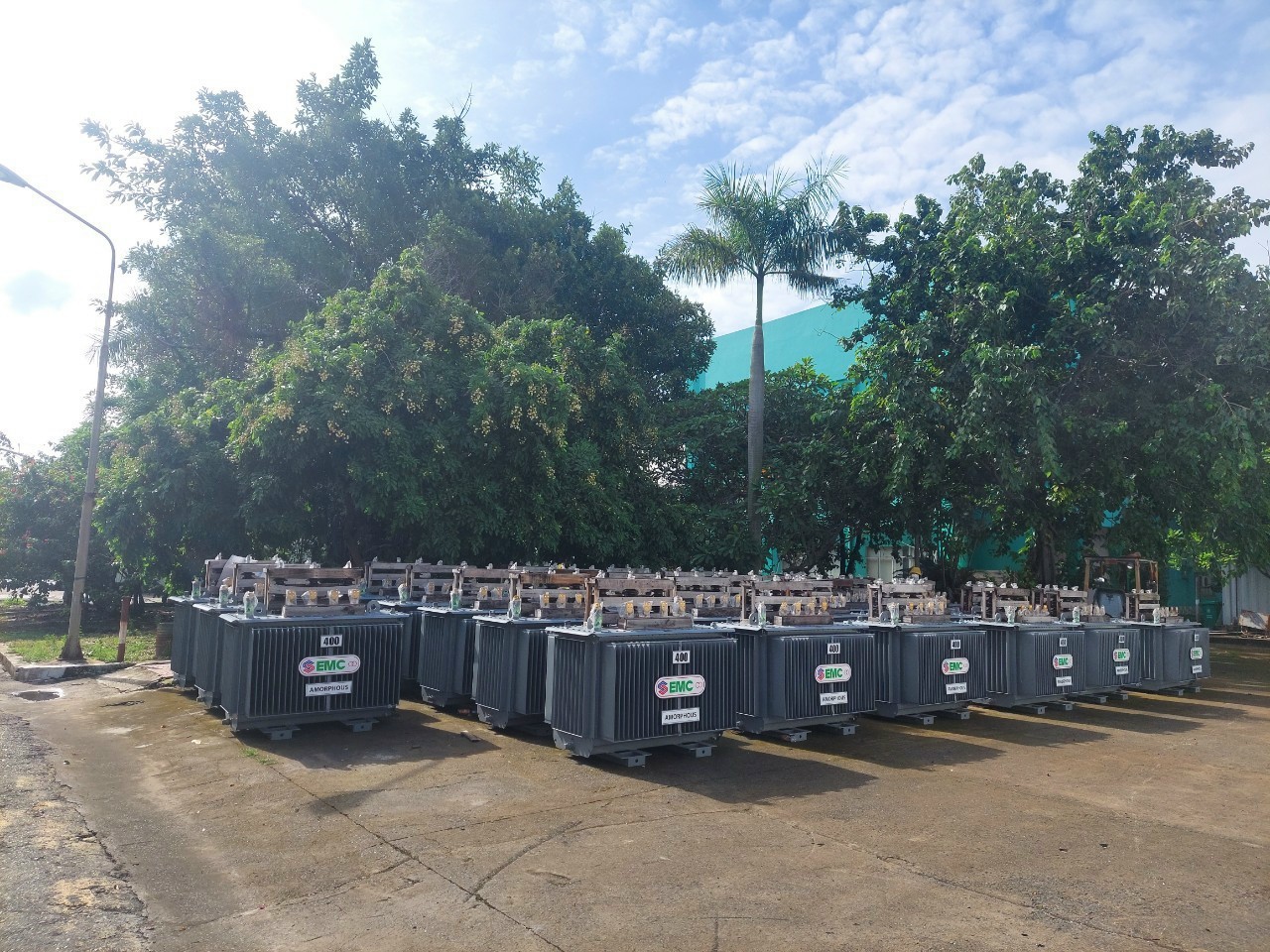 Structure of Amorphous transformer 3 phase 400kVA
Amorphous EMC transformer is composed of 3 main parts: amorphous steel core, coil and fins – shell.
Steel core, magnetic core: Low-loss transformer when applying Amorphous tole core processing technology, also known as amorphous steel core (ADMT) with high magnetism and resistance.
Coil: Includes 2 windings, the primary coil has N1 turns and the secondary coil has N2 turns. State-of-the-art winding technology provides superior overvoltage tolerance.
Casing fins: The housing is machined by corrugated steel, rigorously tested for tightness, cleaned by metal ball blasting and protected by powder coating for added durability.
According to customer requirements, EMC transformer housing can be hot-dip galvanized to meet installation requirements in saline areas.
General technical characteristics of 3 phase Amorphous transformers
Manufacturer: EMC .
– Product quality management standard: ISO 9001: 2015.
– Manufacturing and testing standards: IEC 60076; TCVN 6366.
– Place of installation: Indoor or outdoor.
– Transformer type: Oil-immersed 3-phase transformer, self-expanding closed type, Amorphous low loss transformer.
– Rated capacity: 400kVA.
Number of phases: 3 phases.
– Rated frequency: 50Hz.
– Maximum ambient temperature: 45 °C.
– The temperature rise of the oil: ≤65°C.
– Coil temperature rise: ≤60°C.
– Cooling type: ONAN.
– Working mode: Continuous.
– Cooling oil: New unused mineral oil, with anti-oxidant additives, in accordance with IEC 60296:2012.
– Insulation grade: A.
– Conductor material (high voltage coil and low voltage coil): Copper.
– Paint color: Gray – P9149B.
– Paint type: Powder coating.
– Accessories:
Oil level indicator;
Pressure relief valve;
Oil drain valve.
Specification Of Transformer
107/QĐ-HĐTV
20/QĐ-HĐTV
7691/QĐ-EVN CPC
3370/EVNHCM-KT
Capacity
400kVA
400kVA
400kVA
Po
≤ 132 W
≤ 165 W
≤ 173 W
Pk
≤ 3820 W
≤ 3820 W
≤ 3820 W
Uk
≥ 4%
≥ 4%
≥ 4%
Io
2%
2%
2%
Demesions (AxCxBxD):
1510x1060x1320x660 (mm)
1450x1050x1450x660 (mm)
1450x1050x1450x660 (mm)
Weigh (Oil x Active Par x Total):
380x1480x2300 (kg)
380x1250x1950 (kg)
380x1250x1950 (kg)
Note: Dimensions and weight are approximate; EMC reserves the right to improve and update parameters based on actual production. Furthermore, EMC meets all of the customer's production requirements.