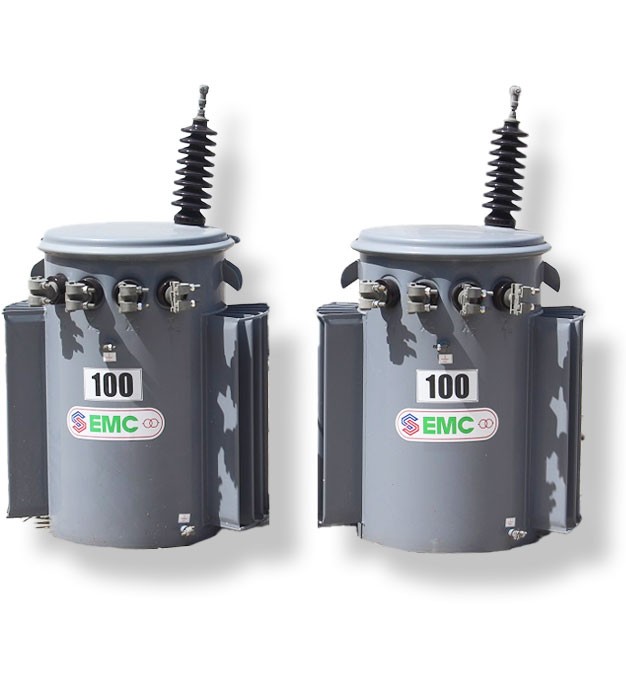 EMCS1 – 1 Phase Oil-Immersed Transformer
1 phase oil-immersed transformer has the function of increasing or decreasing the voltage from the power supply to the generators, thereby helping to stabilize the power network system.
Standard design.

Outstanding mechanical and electrical durability.

Compact product.
Product Description
1 phase oil-immersed transformer are manufactured by Thu Duc Electro Mechanical Joint Stock Company is designed and tested according to TCVN 6306 standard (equivalent to IEC-60076).
The oil-immersed single-phase transformer is designed to meet current electrical standards.

Achieves outstanding mechanical and electrical strength, ensuring safe and stable operation in outdoor installation.

The machine is compact in design, easy to transport, and offers a ready-to-go mounting position.
Structure
Single-phase EMC's transformers are composed of three main parts: steel core, windings and housing. In addition, there are accessories such as on the face of the case with power meters, signal lights and adjustment knobs.
Case: The EMC transformer shell is powder coated, well resistant to tropical weather conditions. For machines used in saline areas, the casing will be hot-dip galvanized, increasing the service life.
Steel core, magnetic core: Using silicon corrugated iron (also known as silicon steel, electrical engineering steel, electromagnetic equipment). Automatic winding cutting technology and corrugated iron core are shaped through specialized annealing equipment to ensure reduced no-load loss, reduced noise level and increased rigidity of the magnetic core.
Winding wire: The primary winding and secondary winding of the machine are machined from copper material with good thermal conductivity. High-voltage coils use high-grade insulating paper with a special glue layer to help shape it firmly.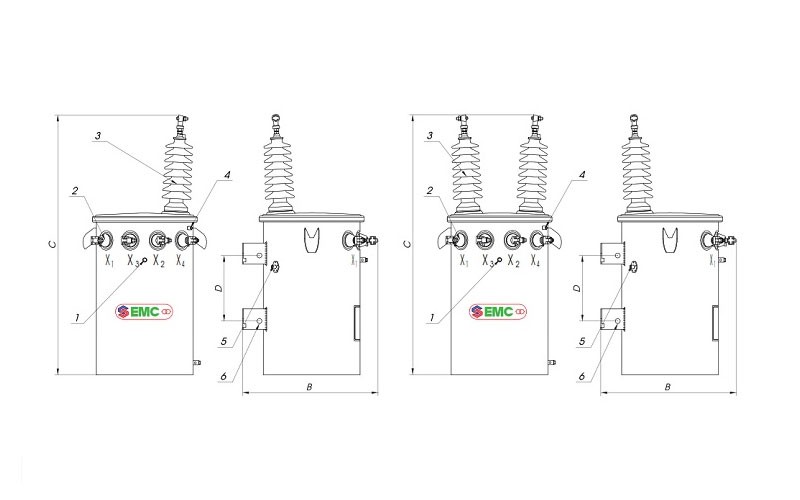 Grounding.
Low-voltage porcelain.
High-voltage porcelain.
Pressure relief valve.
No-load adjustor.
Pillar hanger.
Specification Of Transformer
Decision No. 20/QD-HDTV dated March 11, 2022 by Southern Power Corporation.
Decision No. 62/QD-EVN dated May 05, 2017 by Vietnam Electricity.
Decision No. 7691/QD-EVN CPC dated September 8, 2020 by Central Power Corporation.
Decision No. 3370/EVNHCMMC-KT dated September 4, 2018 by Ho Chi Minh City Power Corporation.

Note: Dimensions and weight are approximate; EMC reserves the right to improve and update parameters based on actual production. Furthermore, EMC meets all of the customer's production requirements.