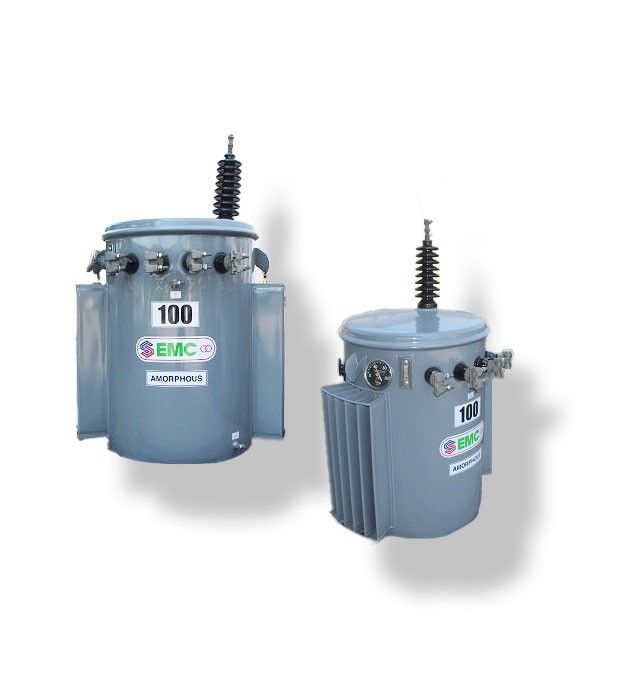 EMCA1 – 1 Phase Oil-Immersed Amorphous Transformer
1 phase oil-immersed amorphous transformer are designed to ensure high quality and reliability when converting the voltage of single phase alternating current from one stage to another while keeping the same frequency.
Oil-Immersed: Single phase transformer cooled by natural circulating oil.
High mechanical and electrical strength: Safe and durable operation when installed outdoors.
Amorphous Tole Core: Amorphous steel core technology provides low loss factor.
Product Description
1 phase oil-immersed amorphous transformer manufacture by Thu Duc Electromechanical Joint Stock Company is designed and tested according to TCVN 6306 standard (equivalent to IEC-60076).
Structure
Single-phase EMC transformer has a simple structure consisting of Amorphous steel core, primary winding, secondary winding and the case.
Steel core, magnetic core: Loss -reducing super transformer uses Amorphous amorphous steel core (ADMT) – magnetic steel with a thickness of 1/10 of traditional silicon steel and no-load loss reduction by 60 – 70% .
Winding: A single-phase EMC transformer with a secondary winding and a primary winding has the function of converting the voltage of the AC power system based on the principle of electromagnetic induction.
Case: The EMC oil transformer case is machined from strong materials with high strength, good insulation and heat resistance, providing perfect protection for the internal components.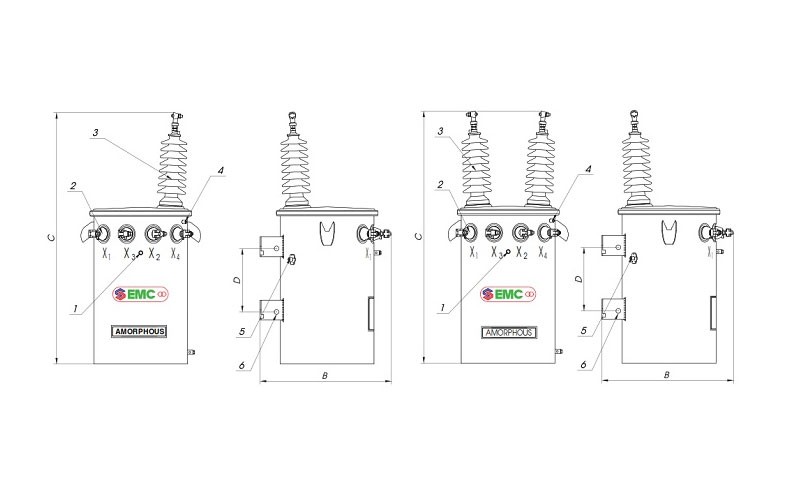 Grounding.
Low-voltage porcelain.
High-voltage porcelain.
Pressure relief valve.
No-load adjustor.
Pillar hanger.
Specification Of Transformer
Decision No. 107/QD-HDTV dated September 21, 2021 by Vietnam Electricity.
Decision No. 20/QD-HDTV dated March 11, 2022 by Southern Power Corporation.

Decision No. 7691/QD-EVN CPC dated September 8, 2021 by Central Power Corporation

Decision No. 3370/EVNHCM-KT dated September 4, 2018 by Ho Chi Minh City Power Corporation

Note: Dimensions and weight are approximate; EMC reserves the right to improve and update parameters based on actual production. Furthermore, EMC meets all of the customer's production requirements.