EMC3K – Aluminum Wire Dry Transformer
Advantages of Aluminum Wire Dry Transformer EMC
High safety, better explosion-proof.
Overload capacity, mechanical and electrical durability.
Saving cost of investment, operation and maintenance.
Environmentally friendly, limiting oil and toxic gas emissions.
Quiet operation, low loss, high efficiency.
Product Description
The EMC series of aluminum wire dry transformer is manufactured by Thu Duc Electro Mechanical Joint Stock Company on advanced technology lines, transferred from abroad.
Aluminum wire dry transformer is manufactured on advanced technological lines from abroad. Coil molded with epoxy resin in a vacuum environment, has a very high bearing capacity when there is a short circuit. The structure of the coil press is firm, limiting the influence of external forces.
EMC is the first unit in Vietnam to invest in a full production line of dry transformers with modern technology, meeting the capacity of 3,000 units/year.
With the above advantages, the EMC dry transformer product line is often used in key projects such as: commercial centers, hospitals, airports, buildings, apartments, water supply works, industrial buildings. power supply, factory,…
Construction of Aluminum Wire Dry Transformer
The EMC aluminum wire dry transformer has 3 main parts: the body; Steel core (magnetic core) and Winding wire.
Winding wire made of aluminum, round cross section. Includes the winding connected to the energy receiving source (primary winding) and the winding connected to the load (secondary winding).
Steel core made from electrotechnical steel sheets with high magnetic conductivity. The steel sheets are coated with electrical insulation, glued together with anti-corrosion and environmental protection glue.
The dry transformer case plays the role of protecting the internal components, so it should be made of strong materials, requiring careful processing, ensuring high durability.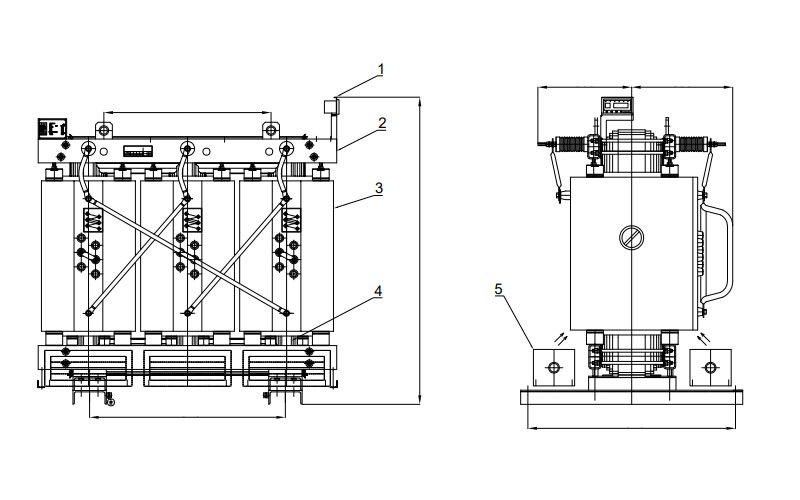 Specification Of Transformer
Decision No.115/QD-HDTV dated September 21, 2021 by Vietnam Electricity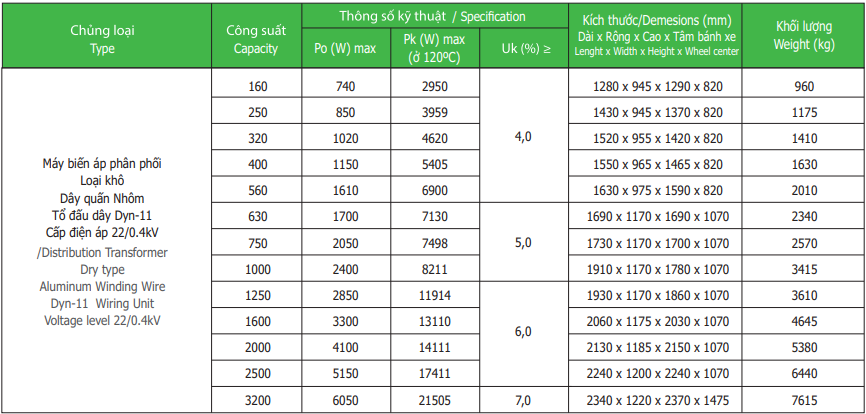 Note: Dimensions and weight are approximate; EMC reserves the right to improve and update parameters based on actual production. Furthermore, EMC meets all of the customer's production requirements.